Speakers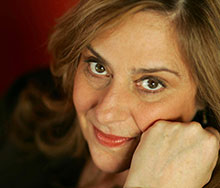 Molly O'Neill
Molly O'Neill was born in Columbus, Ohio. Her father, grandfather, and great-grandfather all played organized baseball, as did the youngest of her five brothers, former Yankee outfielder Paul O'Neill. She graduated from Denison University in 1975 and moved to Paris, where she worked as a chef and earned a culinary graduate degree from the renowned cooking school LaVarenne.
O'Neill is the author of three books, including the award-winning New York Cookbook, and she is the editor of the Library of America's anthologyAmerican Food Writing. Her most recent book is Mostly True: A Memoir of Family, Food, and Baseball. For 10 years she was the food columnist for The New York Times Magazine and the host of the PBS series Great Food. Her work has appeared in many national magazines, among themThe New Yorker, Boston Magazine, and Food and Wine. She has been nominated for the Pulitzer Prize twice, has won the Julia Child/IACP Award for cookbooks, and was awarded three James Beard citations for books, journalism, and television as well as the society's Lifetime Achievement Award.
---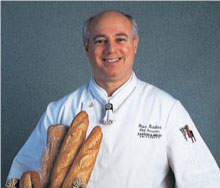 Peter Reinhart
Master breadmaker Peter Reinhart is also a teacher, author and theologian. Through his lectures and numerous cookbooks, he channels the science of baking into deep, spiritual lessons — and dispels stale myths about the nature (and flavor) of good, wholesome bread.
Peter Reinhart's food work began as ministry outreach and later became a full-fledged culinary and teaching career. Both an educator and lay minister, his lessons focus on both secular and spiritual education. One of his books, Bread Upon the Waters: A Pilgrimage Toward Self Discovery and Spiritual Truth is first in a series of books exploring nourishment in terms of food and one's life mission.
Reinhart is founder of the award-winning Brother Juniper's Bakery in Santa Rosa, California. He's now a full-time faculty member in the International Baking and Pastry Institute at Johnson and Wales University. He has also developed a line of frozen gourmet pizzas, calzones, toaster snacks and bagels for Amy's Kitchen.
---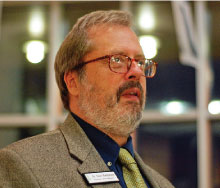 Tom Hanchett
Tom Hanchett joined Levine Museum of the New South in uptown Charlotte as staff historian in 1999, helping create award-winning exhibits including Cotton Fields to Skyscrapers: Reinventing Charlotte in the New South.
Educated at Cornell, University of Chicago, and UNC Chapel Hill, he writes widely on southern culture and urban history. Highlights include Sorting Out the New South City (UNC Press); Salad Bowl Suburbs in  Charlotte NC: Global Evolution of a New South City; and essays collected at www.historysouth.org.
---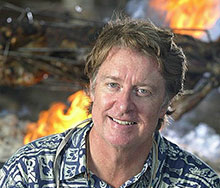 Dan "The Pig Man" Huntley
Dan Huntley developed his interest in regional cuisines while working as a commercial fisherman in the Caribbean with a Cuban cook and Panamanian crew, and has worked several humanitarian relief missions in Nicaragua and Honduras. He has won several national writing awards in investigative reporting, short fiction and poetry. He lives in York, SC and runs Outdoor Feasts catering; he lectures on Southern food traditions before serving pig pickings, legal moonshine tastings, oyster roasts, catfish frys, and Lowcountry shrimp boils.
---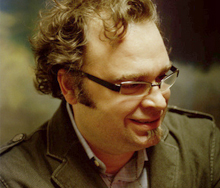 Kirk Irwin, Host & Moderator
Kirk Irwin is an arts advocate who has been on the staff of Cru, an interdenominational Christian organization, for 22 years. Currently, he is pursuing his Masters in Divinity from Reformed Theological Seminary. For ten years he lived in New York City working with collegiate and professional artists. He was a member of the board of directors for the International Arts Movement from 2005 to 2008—serving as its president for 1 year. Kirk lives in Orlando—moving there after marrying his wife Sarah (a painter & graphic designer). This year they will be relocating to South Carolina to give leadership to Friday Arts Project. Together they are Bird and Key.
---
Featured Events
"The Man Who Ate New Orleans" A Film by Michael Dunaway
FRI, JAN. 18 – 7:30 PM  The story of how a New Yorker became a New Orleanian – and why. The Man Who Ate New Orleans is the story of a New Yorker who sets out to accomplish something no one in the 300-year history of New Orleans has ever done – eat a meal at every restaurant in the city. His name is Ray Cannata, and he's a Presbyterian minister who moves to New Orleans shortly after Hurricane Katrina to help revitalize a tiny church there. At his first service after the storm, he boldly challenges the seventeen people present to build a church around a commitment to help rebuild the city.
Just over five years later, the church is large and thriving, and has worked on over 500 homes in New Orleans. And Ray himself is preparing to eat at the last of his 700+ restaurants and truly become The Man Who Ate New Orleans.
This film is much more than the story of a historic food quest. It's the journey that has taken Ray into every corner of the city and taught him what it means love its people. It's a story of how, through the food, the music, and the rebuilding, he truly became a New Orleanian.
---
Coming Home: Photographs
FRI, JAN. 18 – 4:30 PM  "Coming Home" An exhibition from photographer and Friday Arts Project member Cameron Bunce.
Commensality
FRI, JAN. 18 – 4:30 PM  An themed exhibition from Winthrop University students.