When:
October 8, 2020 @ 7:00 pm
2020-10-08T19:00:00-04:00
2020-10-08T19:15:00-04:00
Where:
Facebook Live or Zoom Room

Curator's Codex is our (somewhat) quarterly lecture series where we invite noted individuals to speak on issues close to or involving the Arts.
Curator's Codex
SELECT CONVERSATIONS ON THE ARTS
We will be talking with our very engaging friend—author & publisher, Daniel Nayeri. He's written a new book—Everything Sad is Untrue
We've arranged 2 ways you can join us. For the Interview only, join us on Facebook Live. For the Interview plus an exclusive hour of Q&A, reserve a space with a ticket. Details below. 
7PM – 8PM
Interview (only)
A Free Event to the interview with Daniel Nayeri – does not include Q & A.
Use the button below to find our FB page. Live event will not be available until 7 PM.
7PM – 9PM
Interview + Q&A
Reserve a space in our Zoom Room. Name Your Price Tickets include an exclusive hour of Q&A with Daniel in addition to the interview.
Limited # of spaces available.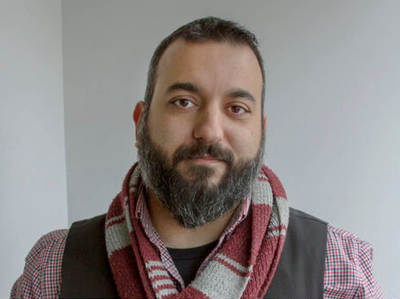 Author & PUBLISHER
Daniel Nayeri
Daniel Nayeri was born in Iran and spent some years as a refugee before immigrating to Oklahoma at age eight with his family. He is the author of several books for young readers, including Everything Sad is Untrue (A True Story) and Straw House, Wood House, Brick House, Blow: Four Novellas. He lives with his family in New Jersey.
By Daniel Nayeri
Everything Sad is Untrue
Autobiographical Novel
At the front of a middle school classroom in Oklahoma, a boy named Khosrou (whom everyone calls "Daniel") stands, trying to tell a story. His story. But no one believes a word he says. To them he is a dark-skinned, hairy-armed boy with a big butt whose lunch smells funny; who makes things up and talks about poop too much.
But Khosrou's stories, stretching back years, and decades, and centuries, are beautiful, and terrifying, from the moment his family fled Iran in the middle of the night with the secret police moments behind them, back to the sad, cement refugee camps of Italy…and further back to the fields near the river Aras, where rain-soaked flowers bled red like the yolk of sunset burst over everything, and further back still to the jasmine-scented city of Isfahan.
We bounce between a school bus of kids armed with paper clip missiles and spitballs to the heroines and heroes of Khosrou's family's past, who ate pastries that made people weep and cry "Akh, Tamar!" and touched carpets woven with precious gems. Like Scheherazade in a hostile classroom, Daniel weaves a tale to save his own life: to stake his claim to the truth. And it is (a true story).
It is Daniel's.
"A distinctive voice. A rare treasure of a book."
– Publishers Weekly, starred review