When:
April 8, 2021 @ 7:00 pm – 9:00 pm
2021-04-08T19:00:00-04:00
2021-04-08T21:00:00-04:00
Where:
The Courtroom Gallery @ Gettys
201 E Main St. Rock Hill ART EXHIBIT
MARCH 1 — APRIL 22, 2021
RECEPTION: APRIL 8, 7–9pm
reception tickets
Tickets to attend this reception are free and divided into 4 time slots to respect the need for social distancing in this time of Covid. If you suspect you are ill in any way, i.e. sore throat, fever, excessive cough or sneezing, etc, we ask that you kindly stay home. While attending we ask that you please observe the regulations of the City of Rock Hill with regards to masks and distancing in indoor spaces. We also ask that you be patient while attending as occupational space is limited. Finally, whatever time slot you choose, we ask that you respect the necessary time limitations in order that as many people can see the exhibit as possible.
We will be offering a selection of beverages. At this time there will be no food at the reception. 
exhibit overview
Air & Dust duo exhibit is a contrast of cool and warm, blue and yellow vistas. A visual dialogue of textural divergence—Cat Babbie's abstractions of cool humidity in fiber art and Joan Coff's bright strokes of warm southwestern scenes in paint—perhaps visceral enough for you to feel the air and dust on your skin.
exhibition statement
CAT BABBIE
Skyscapes—This series is inspired by how colors and shapes in the sky are affected by changes in time and weather. The Skyscapes are created using a hand-held tufting machine and wool yarn I dye myself.
exhibition statement
JOAN COFF
Where the Earth Meets the Sky is a collection of works from my travels in the Southwest, when I lived in New Mexico. They say you can see the bones of the earth, and hear the song of the sky, they say you can feel the ancestors. The sense of distance is what I noticed the most, the wide open spaces, the huge sky. I am aware of my smallness. And yes, the light, the amazing light that has called artists for decades.
CAT BABBIE
In the spectrum of styles and mediums, I land in abstract fiber arts. I work with a variety of forms of wool, silk and cotton, everything from tufting to felted sculptures, weaving to sewing. I am currently concentrating on machine-tufting: using a yarn-fed power tool to create wall pillows and soft sculptures with hand-dyed wool.
The dye pot is where I fell deeply in love with the world of textiles. Dyeing the yarn is as important to me as mixing colors is for a painter. The colors I look for have variations within each hank of yarn, which increases the textural aspect of the work, as well as the visual interest. I can create subtleties that are impossible to recreate using commercially dyed yarns.
The tufts are soft, combining subtle color shifts to the undulating texture of yarn. When hung on the wall, the pieces soften the space, and invite the viewers to come closer. Their textures are intriguing. It's my favorite part of working with textiles: creating work that draws people in, enticing them to interact directly with the fibers.
JOAN COFF
I'm a recently retired doctor who has painted for 30 years. I just moved to Rock Hill. I've lived in a number of states and traveled the southwest since 1993.
ABOUT
The Courtroom Gallery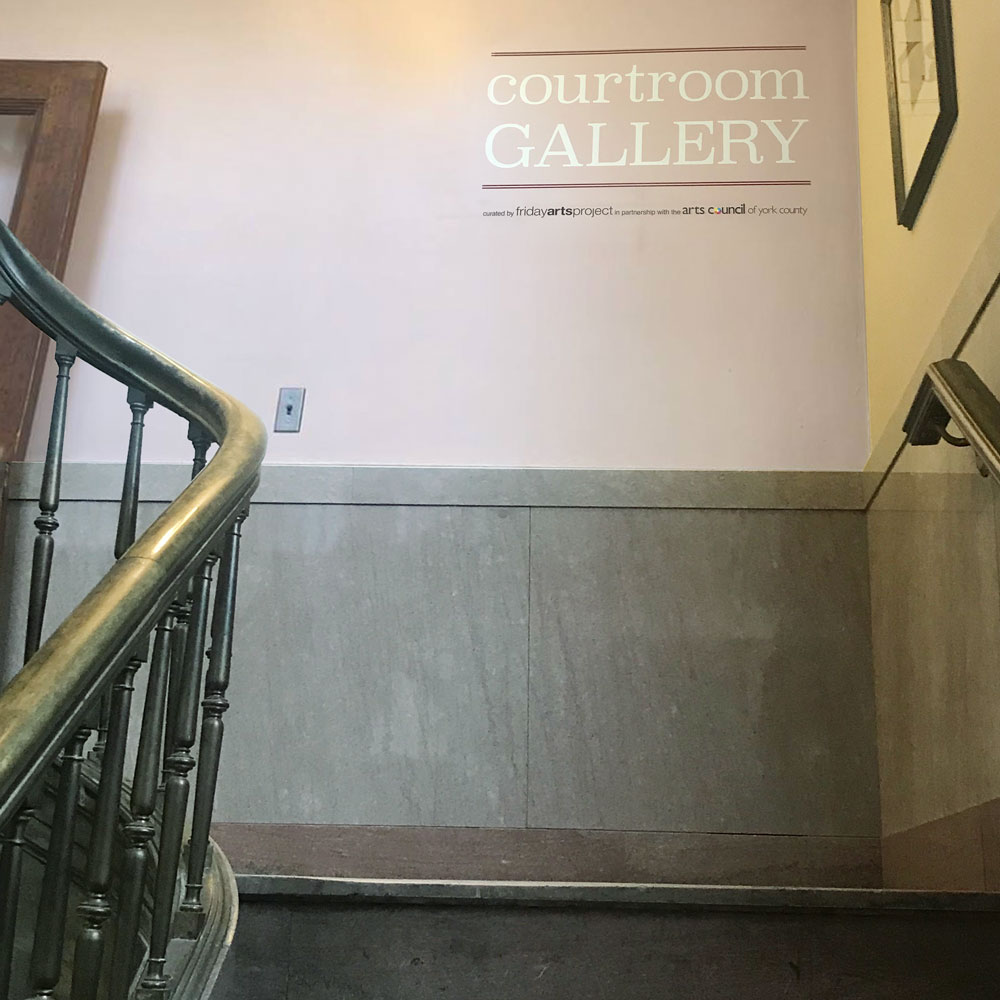 LOCATION:
Courtroom Gallery
Gettys Art Center
201 E Main Street
2nd Floor
Gettys Art Center hours:
Monday – Friday | 9 AM – 5 PM