When:
June 10, 2021 @ 7:00 pm – 9:00 pm
2021-06-10T19:00:00-04:00
2021-06-10T21:00:00-04:00
Where:
Gettys Art Center
201 E MAIN ST. ART EXHIBIT
MAY 3 — JUNE 23, 2021
RECEPTION: JUNE 10, 7–9pm
exhibit overview
New works by local artists Alexis Howard and Dylan Bannister—Gentle Reminders—highlight their artistic and romantic partnership. The delicate whimsy of Howard's clouds and the earnestness of Bannister's collections & recollections reflect their bond through imagination and relationship.
exhibition statement
Gentle Reminders is composed of new works by artist couple Alexis Howard and Dylan Bannister. The exhibition highlights the artistic and romantic partnership between these two multidisciplinary artists based here in Rock Hill. Having been forged together during their time as undergraduates, Alexis and Dylan have witnessed and influenced each other's growth both as creative individuals and as human beings. The works exhibited illustrate the differing skillsets and processes of each individual, while also emphasizing the overlap where they have affected one another. While not strictly collaborative, all of the works are the result of unending support and constructive critique, as the artists typically work concurrently.
Alexis loves clouds. Her work and personal aesthetic are explorations of being calm and being gentle. The merging of photography with mixed media elements and text in her latest works aim to convey feelings of comfort and tenderness. These pieces primarily investigate the process of collage and incorporate softness through the imagery, color palette, and scale. If there is one main takeaway, she hopes you notice the clouds.
Bannister has utilized processes both archaic and new to produce works that explore the formation, storage, and decay of human memory. His latest body of work is the result of the artist challenging himself to work more impulsively, marrying many processes and collected materials in their development. The resulting works are assemblages, all of which are generated around a photographed location that holds great personal significance for the artist.
ALEXIS HOWARD
Artist and photographer Alexis Lorraine Howard currently calls Rock Hill, SC her home. She received her B.F.A. with a concentration in photography from Winthrop University in 2016, going on to become the Studio / Post Production Manager at Salt Paper Studio. Alexis' personal work incorporates a diverse assortment of media including photography, fibers, and mixed media collage, and also uses her skills to document artwork and performances by local artists.
DYLAN BANNISTER
Dylan Bannister is a visual artist and printmaker based out of Rock Hill, SC, where he maintains a studio practice and engages with the town's growing arts community. In 2016, he earned his B.F.A. from Winthrop University, where he then taught as an Adjunct Instructor of Fine Arts, educating on artwork documentation and portfolio organization. Bannister has also worked as an assistant to other professional artists; having designed web-based galleries, aided in classroom settings, and managed studio spaces.
ABOUT
The Courtroom Gallery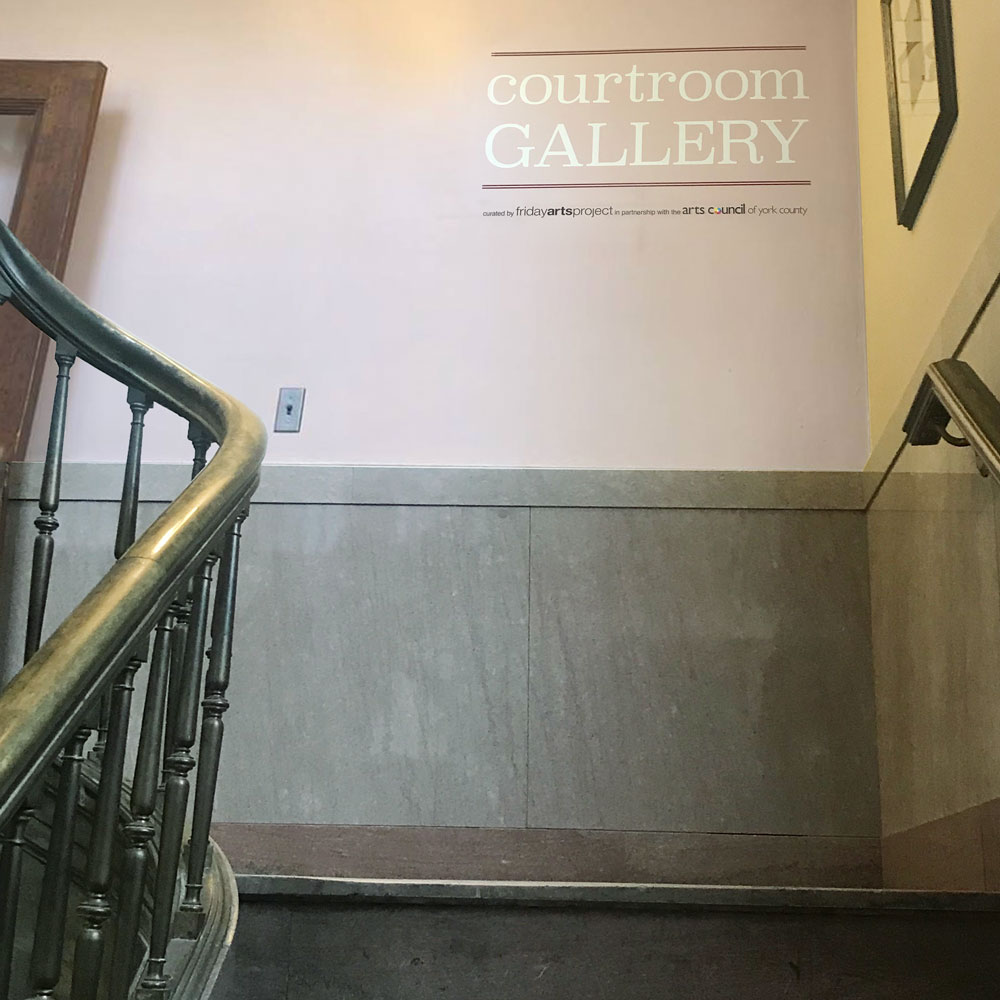 LOCATION:
Courtroom Gallery
Gettys Art Center
201 E Main Street
2nd Floor
Gettys Art Center hours:
Monday – Friday | 9 AM – 5 PM